Photo
Woah woah woah. Cooking schnitzel nonstop
Photo
We just can't wait to reveal what we're working on. Get ready @smorgasburg #gamechanger
Photo
Working in the kitchen! Smokey Russian, pickled tomatoes & Onions, and shaved cabbage #schnitzel
Photo
@chobani is in the retail game. Brilliant thinking.
Text
The New Schnitz Chef
Schnitz is pleased to announce that a new chef has joined our team. Her name is Stephanie Alleyne. Stephanie brings an extensive culinary resume to the Schnitz kitchen. For over 20 years, she has forged a cooking career in New York City – owning and operating a critically acclaimed catering company and a restaurant in Gramercy Park. She has appeared in Cookie Magazine, O Magazine, and Better Homes and Gardens as well as worked for and appeared on The Food Network.
Stephanie has been summoned with the task of expanding our menu in order to provide a complete range of options that's required for a storefront, which we're planning to launch in 2013. Today the Schnitz menu consists of 3 sandwiches: Bamberg, Sweet Onion & Veggie. We'll be looking to add at 2-3 new schnitzels to the menu as well as seasonal options.
Our goal is to round out the menu with additional flavor profiles, meat and vegetable options, sides and drinks. We'll be reviewing our existing menu for the purpose of streamlining our operations. As we begin to add more items, it will naturally become more difficult to maintain multiple products so we'll be exploring ways to scale up. Most importantly, we want our menu to achieve three things:
appeal in taste and ingredients to a wide range of palates and diets
simple for the customer to order and our staff to serve
provide our customers with a filling meal at a fair price
Stephanie will prepare the following:
A recipe book
Food costs and pricing based on current market conditions
Cooking methods
Back-of-house procedures and portion sizes for platters and sandwiches in all serving formats (open air market, brick and mortar and catering)
The final point is one of the most important things we'll be working with Stephanie to achieve. Our products and procedures need to be executable in varying contexts.
She is extremely excited to begin research and development and we'll be working very closely with her throughout the next 6-8 weeks. Be prepared for lots of updates by way of Facebook, Twitter, Instagram and now Tumblr! Welcome Stephanie!
Text
Schnitz Blog Launches on Tumblr!
Back in March of 2012, our blogging service Posterous was acquired by Twitter. Since the acquisition, there have not been too many improvements made to Posterous. It appears that the engineers working on the platform are working on other Twitter related things. We were told that we would be able to export our data "in the coming weeks". Well, 8 months later we finally can do it. The Schnitz blog has officially moved over to Tumblr!
Tumblr is a similar service with similar capabilities but people who blog on Tumblr are slightly more focused on images. As a result, we'll be using more photos to describe our adventures. Tumblr also has a great iPhone app and, best of all, it's integrated seamlessly into our website. I hope you guys enjoy! (We'll be improving the look and feel soon!)
(Source: google.com)
Text
Sandy and Her Effect on Food Businesses
This past week has been an extremely difficult time for New Yorkers. Hurricane Sandy has caused unprecedented hardships for families in the NY/NJ area. Our deepest thoughts and concerns go out to all those who were affected.
Schnitz was fortunate to have not lost power at our kitchen space. We don't carry much perishable inventory during the week and we don't have a store front today; nevertheless, we've been thinking about the restaurant owners in areas without power. With all the stories and images of pain and suffering, we often times forget about food businesses and the people who run them. Their operations are completely paralyzed and they have suffered greatly. As you can imagine, when a restaurant loses power, there's essentially a very small window before all of the inventory is completely spoiled. We've heard painful stories of thousands of dollars of food going straight to the garbage. One week of interruption often times means the difference between making ends meet. We know quite a few vendors who were not able to continue their operations and vend at Smorgasburg this past weekend. We wish all these businesses the best of luck in their recovery.
Below are a few sites where you can donate money and volunteer your time.
There are a few recovery organizing sites that allow people to offer/request assistance, and are coordinated by the folks at Occupy NYC and community organizations on the ground including Lower East Side Recovers and Astoria Recovers, Red Hook Recovers and Staten Island Recovers.
I've also included a list of items that are commonly needed in times of natural disaster.
Top 5 Items to Donate:
Batteries
Flashlights
Work Gloves
Black Garbage Bags
Masks
Most Essential Medicinal Items:
Baby cough medicine
Band-Aids
Neosporin
Advil/Tylenol
Let's all look towards a hasty and healthy recovery!
Text
NY Mag's Grub Street Food Festival – THIS SUNDAY
We're proud to announce that Schnitz will be participating in New York Magazine's 3rdannual Grub Street food festival. It's co-hosted by the Hester Street Fair and will take place on the tennis courts on Essex street, close to the corner of Hester street.
Last year's event was slammin'. The weather was perfect; there was tons of foot traffic; and there were lots of food writers, photographers and editors. We're hoping for similar results this year. Forecast so far is calling for a sunny day and a high of 66 degrees.
For us, last year's memorable moment was when we got a special sandwich request from the editor of NY Mag's Grub Street blog, Alyssa Shelasky. It was our first month of service and certainly a special moment. Wow, how much things have changed since then.
See you Sunday!!
Text
Chef Discovery Round 2
The rumors are true, we're on the hunt to find a new chef to help us expand the menu. When we first looked for a chef over a year ago, we were complete newbies. We had no idea how the business worked. The process is going to work a little differently this time around. We're leveraging our network and food relationships we've developed over the past 16 months to help source a new culinary expert. Our mission is to build a long-term relationship with a chef who will become intimately familiar with our formula and our tastes and will be interested in future partnership. We've got 2-3 people on our short list and the interviews and taste tests are underway. Below you can see a summary of what we're looking to do. It's our RFP (request for proposal) if you will:
Overview
Schnitz, LLC is a quick-serve, single item menu food business based in New York City. We believe Schnitzel is poised to become a mainstream comfort food. Contrary to the options available to New Yorkers today, we aim to deliver a simple, focused quick service model for schnitzel.
The management team is seeking to expand the menu in preperation for the opening of a brick and mortar. Schnitz requires the services of an experienced chef with culinary and operational expertise. The project will be based on a fixed cost consulting agreement which clearly defines a timeline and deliverables.
Key Challenges
To expand the menu of an existing and measurably successful product
Recipes must be operationally simple to execute
Sandwich components must conform to the existing construction of a Schnitz sandwich (breading, sauce, vegatable topping)
Deliverables
2 new sandwiches

2 panko crusted breadings
2 sauces
2 vegetable toppings (similar to our pickled vegetable garnishes today)

4 sides for a future platter option
A review of our existing menu and recommendations for streamlining
Creation of a catering program
Timeline
We are aiming to complete this project by 12/31/2012. 
 We essentially want to have a total of 4 sandwiches plus a solid vegetarian option. There are honestly so many exciting options that fit into our formula. I believe the challenge will be in narrowing down all the tasty goodness. But first things first, we have to find the right person to help us get there.
Text
Smorgasburg Sundays @ The Brooklyn Bridge Park
A new day but familiar faces. The good people at the Brooklyn Flea have launched Smorgasburg on Sundays at the Tobacco Warehouse in the Brooklyn Bridge Park. The Tobacco Warehouse is a historic site which was recently preserved by a number of community groups and the Brooklyn Bridge Park Corp to be re-used as a cultural and community facility by schools, local organizations and the public. It's an absolutely phenomenal location with plenty of organic and tourist foot traffic. It's right by Jane's Carousel for those who are familiar with the area. You can access the location by taking the Empire-Fulton ferry or the A,C and F subways. Parking is a lot more difficult than the Williamsburg location but doable if you need.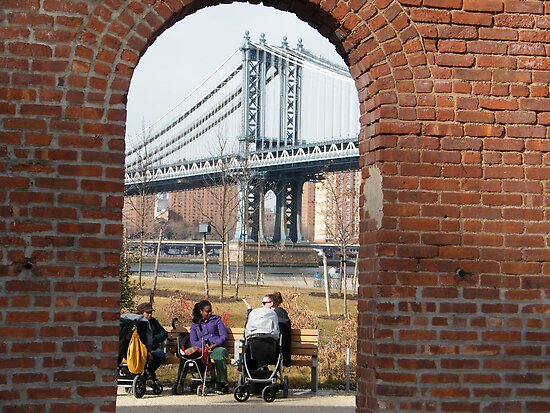 We've been there the last couple Sundays and the turnout has been fantastic. The Flea has done an incredible job of putting this space together and attracting crowds. I hope this pilot period goes well so we can continue vending there next season. It's pretty incredible to have the opportunity to vend at this space. It's extremely unique for New York.
We've been fortunate enough to have grown with the Smorgasburg market and we're so happy to see it expand in a meaningful way. Regardless of how we develop as a company, Smorgasburg will always be a part of our identity and we hope to forever be a vendor.